Classification of emergencies

The INES-scale (International Nuclear and Radiological Event Scale), issued by the International Atomic Energy Agency (IAEA), is a classification scale for the safety significance of nuclear and radiological events. This scale is used worldwide and in an event facilitates the communication with the public and the media.
The uniform assessment criteria allow for a consistent description of the type and severity of the event and thus result in a common understanding of incidents and accidents.
INES classifies nuclear and radiological incidents and accidents by considering three areas of consideration:
Radiological consequences outside of the plant
Radiological consequences within the plant
Impact on safety provisions

Apart from Level 0 for events without safety significance, the scale classifies events at seven levels, from Level 1 "Anomaly" to Level 7 "Major Accident".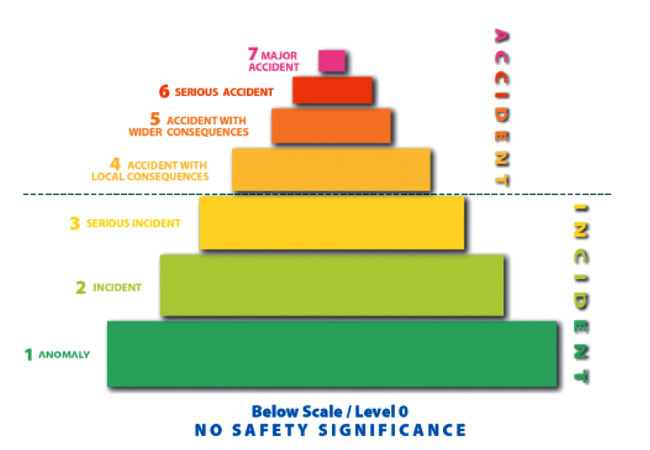 Extended image description of the INES scale
Below the scale and level 0: No safety significance
Classification of levels 1 to 3 as an accident:
Level 1 "Anomaly"
Level 2 "Incident"
Level 3 "Serious Incident"
Classification of levels 4 to 7 as an accident:
Level 4 "Accident with local consequences"
Level 5 "Accident with wider effects"
Level 6 "Serious Accident"
Level 7 "Major Accident"